Liv Rooney (Dove Cameron) has just come home to Stevens Point, Wisconsin after a four-year stint in Hollywood filming a popular television program, Sing It Loud!, that just finished its run, to the open arms of her parents, brothers, and twin sister, Maddie (also played by Cameron). The pair had hoped to resume their relationship from before Liv left, but have since grown into opposing personalities. Liv has become very girly and enjoys any time someone mentions her former career, whereas Maddie has become a tomboy perfecting her basketball skills and is the captain of her basketball team. They have two brothers: Joey (Joey Bragg), the typical awkward teen, and Parker (Tenzing Norgay Trainor), a confident and clever child. Rounding out the Rooney clan is their mother Karen (Kali Rocha), the school psychologist, and their father Pete (Benjamin King (actor), Maddie's basketball coach, both of whom are anxious to now care for all their children under one roof. Some events take place at Ridgewood High School, where the three elder Rooney children attend and both parents work.
Main Characters
Edit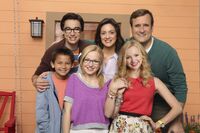 Dove Cameron As Olivia/Liv Rooney
Dove Cameron As Maddison/Maddie Rooney
Joey Bragg As Joseph/Joey Rooney
Tenzing Norgay Trainor As Parker Rooney
Kali Rocha As Karen Rooney
Benjamin King As Pete Rooney
Episodes
Edit
Season 1
Edit
Twin-A-Rooney - March 8, 2014
Team-A-Rooney - March 8, 2014
Sleep-A-Rooney - March 8, 2014
Steal-A-Rooney - March 15, 2014
Kang-A-Rooney - March 22, 2014
Skate-A-Rooney - April 4, 2014
Dodge-A-Rooney - April 12, 2014
Brain-A-Rooney - April 19, 2014
Sweet 16-A-Rooney - June 2, 2014
Fa-la-la-la-A-Rooney - August 16, 2014
Switch-A-Rooney - June 9, 2014
Dump-A-Rooney - June 14, 2014
Move-A-Rooney - June 27, 2014
Slump-A-Rooney - June 27, 2014
Moms-A-Rooney - August 2, 2014
Shoe-A-Rooney - August 9, 2014
Howl-A-Rooney - July 27, 2014
BFF-A-Rooney - October 4, 2014
Song-A-Rooney - TBA
Space-Werewolf-A-Rooney - TBA
Ad blocker interference detected!
Wikia is a free-to-use site that makes money from advertising. We have a modified experience for viewers using ad blockers

Wikia is not accessible if you've made further modifications. Remove the custom ad blocker rule(s) and the page will load as expected.